CITIZEN PRINTERS
P. S. TSIAKKIS LTD
CITIZEN CMP-20 / CMP-30 Portable Printers


-Easy media loading with drop-in paper loading and paper out indicators.
-Integral tear bar to cut paper to length.
-Lithium Ion battery technology and easy-to-change power modules.
-AC adapter as standard designed to recharge
batteries on-board the printer or via an external charging station.
-Range of interfacing options including USB,
industry standard serial plus Bluetooth and Wireless LAN networking options.
-Magnetic stripe reader and ICcard ('chip card') reader options.
-Windows drivers and software development toolkits for a range of application platforms
CITIZEN CMP-10 Portable Printer

-Palm size
-50mm/sec printing speed, Easy paper loading
-IrDA and serial interface (Cable is option)
-Bluetooth type available (CMP-10BT)
-Li-ion battery (Large capacity) , - ESC/POS (EPSON) compatibility
-Auto power off, Low battery monitoring, Belt clip
-40 or 50 mm diameter cover, Internal charging circuit
-Mag stripe card reader type available, Availability in black color
-Driver: Windows 2000/XP/VISTA/2003 Server, WindowsCE 3.0/4.2/5.0
CITIZEN PD-22 PORTABLE PRINTER

Portable printing for the mobile user, Ideal for any application

-Printing receipts within industries such as hospitality, route
accounting, healthcare, law enforcement, field service and retail
are a snap for the PD Series.
-Flexible print widths of 1.89" and 4.09" allow for 20 and 40
-The paper alignment is automatic offering exceptional user convenience.
-Small in size and very lightweight make these printers a leader in the
portable printing market.
-Optional Bluetooth on the PD24 enabled model allows for convenient
anywhere, anytime printing of up to 30 feet from the host.
CITIZEN PD-24 Four-Inch Portable Printer

-112 mm printing for portable applications that require more data
-Standard IrDA, Serial and USB interfaces with optional Bluetooth
-Long-life Lithium Ion batter
-Easy paper loading
-Can print 8.5" x 11" documents in a 4" format, Charger included
-Optional car charger and external battery charger available

Applications

-Portable Instrumentation, Healthcare, Law Enforcement
-Route Accounting, Field Service, Diagnostics
-Ticketing, Hospitality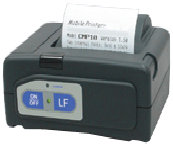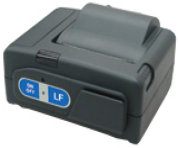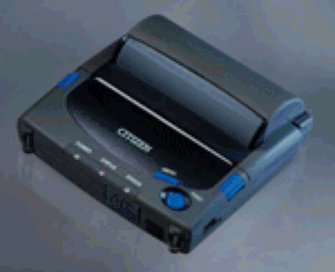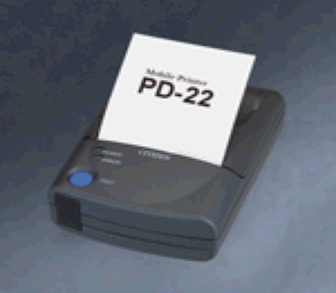 CITIZEN CMP-40L Portable Printer

Robust. Powerful. User-friendly

The CMP - 40L is designed for ease of use and operation as all printers from Citizen. In connection with the durable, rugged and shock- resistant plastic housing, this means that our printers are suitable for long-term use.

Large capacity with media rolls up to 58 mm in diameter
Durable Lithium Ion Batteries
WI-FI , Bluetooth
iOS , Android and Windows mobile

Quick and easy media changing - drop-in paper loading
Paper width 112 mm
Robust - exceeds IP54 and survives multiple drops of 1.8 metre
Mobile-POS ready

WiFi / Bluetooth™
iOS, Android, Windows CE / Mobile