CITIZEN PRINTERS
P. S. TSIAKKIS LTD
Gen2Wave RUGGED HANDHELD COMPUTERS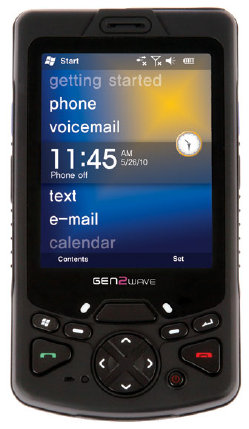 Exceptional size and weight

With 3.5inch QVGA (full VGA optional) larger display and all the effective functionalities - HSDPA, Wi-Fi, Bluetooth, GPS, HF RFID reader, Barcode scanner, Camera- the RP1000 is just around 250g. Compared to the latest rugged PDAs, the RP1000 is minimum 30% smaller than them. Looking like smartphone, the RP1000 is conveniently hosted by workers' hand enabling real voice telephony in professional look.

Ultra-rugged design with details

IP64 sealing and anti-shock resistance up to 1.5m become normal standard in the class of rugged PDA. Not only fulfilling them as minimum standard, but also Gen2wave implemented practical methods into the RP1000 in order to minimize breakage and downtime. For instance, its hard plastic touch screen which is separated from LCD module, significantly decline display breakage as well as lowering repair cost up to 80%. Robust and waterproof external I/O connector is strong enough to endure stressed IN and OUT as well as tight connection and high-speed data exchange.

Powerful and stable platform

Powerful high-speed PXA320 806MHz CPU with lager memory capacity-128MB RAM and 512MB Flash memory and plus a high capacity Micro SD slot for up to 32GB expanded memory- support a wide variety of robust enterprise applications and demonstrate nearly desktop-like processing speed with lower power consumption
User-friendly Window Mobile 6.5 additionally provides improved user interface, convenient web browsing, reinforced versatile touch functions as well as more stable and smarter operation (compared to Window Mobile 6.1).
The smart power management system maximizes battery autonomy in the given capacity. The 1860mAH standard battery lasts longer than 8 hours in most applications. For heavy-duty applications and extra-long shift, the 4,000mAH expanded battery will be sufficient, not requiring need of a replacement battery. Also, in the event of removing the main battery for replacing or fully-discharged, the 200mAH built-in backup battery keeps data and configuration setting secure.






RP-1000